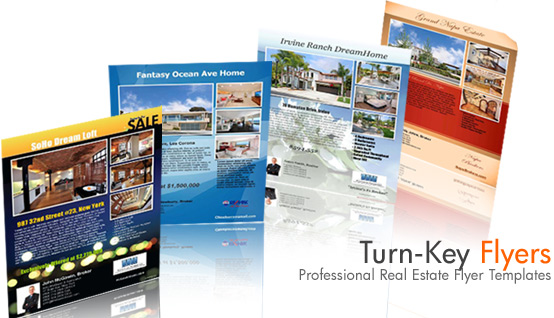 Real Estate Agents Improve Bottom Line and Look Good Doing So
Turn-Key Flyer Templates Improve Marketing Efficiency Through Eye-Catching Innovative Template Design and Technology.
Seal Beach, CA (PRWEB) November 5, 2009 — TurnKey Flyers (www.TurnKeyFlyers.com), a new and innovative real estate marketing template provider, launched their services to the world this month, bringing eye catching designs and simplicity to real estate flyer marketing. Agents need only 5 minutes to develop and produce professional-grade marketing, with no special software to install, and no design experience necessary.
Real estate agents around the globe can create a professional and upscale image of their business when they use premium marketing templates, dramatically cutting their workload down from hours to minutes. Turn-Key Flyers has simplified the process by creating various professional pre-designed PDF real estate flyer templates.
"For years we have been helping real estate agents with their marketing needs," said Reuben Fine and Rey Marques, co-founders of Turn-Key Flyers. "Over time, we found that many of the marketing tools available to agents were highly inefficient, outdated or were too complex to learn and use. Turn-Key Flyers makes it easy for agents to market their business in a professional manner without breaking the bank."
Agents purchase and download a collection of PDF real estate flyer templates and simply add their property information directly onto the flyer. New flyers can be made without the hassle of designing from scratch. Each flyer brochure can be saved as a PDF, printed, or emailed.
"A graphic designer will charge at least $100 or more to create a single, professional-quality flyer," says Fine, a previous real estate graphic designer. "If an agent even had a small amount of design skill, it would still take them about an hour and half to produce a decent flyer, but with Turn-Key Flyer Templates we've done all the work for you, so you can create a better flyer in a tenth of the time and a fraction of the cost."
An unlimited-use template package can be purchased for a one-time fee starting at $9.95. For more information visit http://www.turnkeyflyers.com
###